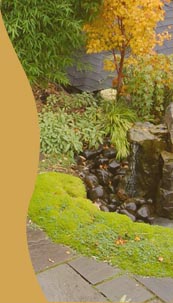 Welcome to Elliott Bay
Landscape Design Inc.
Elliott Bay Landscape Design Inc. is passionate about connecting people to their outdoor environments. We believe that outdoor rooms and garden spaces are essential in providing balance and a sense of peace in our lives. For us, nature isn't a place we have to drive to. It's all around us waiting for us to slow down and tune in. Our goal is to create urban gardens that allow nature to intermingle with our daily lives.
Authentic materials and good old fashioned craftsmanship are infused in every garden we develop. Whether it's adding a simple water feature to bring the melodic energy of moving water into the garden, or renovating an entire yard to incorporate elements of Stone, Water, Wood, Plants and Light, our goal is to enhance the lives of those who allow us the opportunity to do so.
Over and over, we are told what a wonderful experience our clients have had during their project, especially with our friendly and professional staff. It's our love for what we do that manifests the spark of magic in each project we embark on. We believe in creating spaces that can nurture our souls and renew our sense of connectedness to the living earth.